Usobuki



Name

Usobuki

Found in

Mountains

First Appearance

Episode 15
Usobuki are the
mushi
that create the
Harumagai
(false spring.) They feed on the life force of small creatures, and often take form of butterflies in winter and flowers in spring.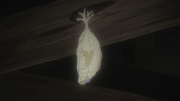 The Usobuki's metamorphosis from its butterfly form to its flower like form signals the end of Harumagai thus causing the victims to wake up
Ad blocker interference detected!
Wikia is a free-to-use site that makes money from advertising. We have a modified experience for viewers using ad blockers

Wikia is not accessible if you've made further modifications. Remove the custom ad blocker rule(s) and the page will load as expected.