Umisen-Yamasen



Name

Umisen-Yamasen

Found in

Mountains, Sea

First appearance
The
mushi
are sub-catigorized by where they live. Both look like small, snake-like creatures but one lives in forested areas while the other lives in the ocean. After one thousand years both of the mushi come together to combine to make a single mushi. The ones living in the sea can create a mist that anyone can see out of so long as they want to get back to shore.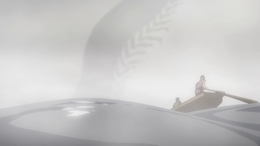 N/A
This mushi's name comes from the Japanese expression 海千山千 (umisenyamasen), literally meaning "ocean-thousand, mountain-thousand". This expression is used to refer to a person who has had enough life experience to get out of any situation using their wit. It refers to an old saying that a snake must live one thousand years in the ocean and another thousand years in the mountains before becoming a dragon.
Ad blocker interference detected!
Wikia is a free-to-use site that makes money from advertising. We have a modified experience for viewers using ad blockers

Wikia is not accessible if you've made further modifications. Remove the custom ad blocker rule(s) and the page will load as expected.