Welcome to the Mushishi Wikia!
Edit
The Mushishi Wiki is an encyclopedia devoted to mushi, Mushi Masters, and what happens when the mushi world and ours collide. Feel free to add and expand the archives; your input will feed the minds of generations to come... Just keep the policies and copyrights in mind while editing!
Edit
New pages
Mushishi (蟲師) is a manga series written and illustrated by Yuki Urushibara, published in Kodansha's Afternoon magazine from January 1999 to August 2008. The manga has 10 volumes, and roughly 50 chapters. The manga won an Excellence Prize at the 2003 Japan Media Arts Festival and the 2006 Kodansha Manga Award.
The manga was adapted into an anime series in 2005-2006, with 26 episodes. The Artland production was directed by Hiroshi Nagahama.
A live-action feature film adaptation titled (in English) The Bug Master, directed by Katsuhiro Otomo, premiered on March 24th, 2007.
A special, titled Mushishi Tokubetsu-hen: Hihamukage was released on January 4th, 2014.
The second season for the anime aired on April 4th, 2014, the second half being aired during November.
Featured CharacterEdit
Adashino is the doctor of a village whom Ginko visits occasionally.
Featured MushiEdit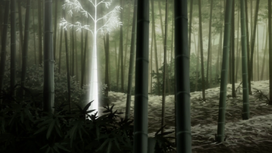 The Magari-Dake takes the form of a white bamboo tree and attaches itself to the established root system of already existing bamboo forests.