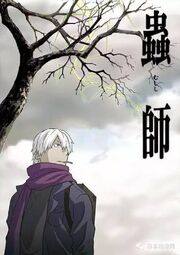 This is the first season of the
Mushishi anime series
. It contains 26 episodes that aired from October 23rd, 2005 to June 19th, 2006. The first season experienced a brief hiatus in March after Episode 20, but resumed airing shortly after in May with the final six episodes.
An OVA titled Special Episode: Sun-eating Shadow (Tokubetsu-hen: Hi Hamu Kage) aired on January 4th, 2014, after the final episode of the first season but before the second season, Mushishi Zoku Shou, aired.
The opening song for this season is The Sore Feet Song by Ally Kerr.
Episode List
Edit
#
Title
Original air date
01
The Green Seat
October 23, 2005
Ginko, a Mushi Master, learns of a boy who can create life by drawing or writing and decides to pay him a visit.
02
The Light of the Eyelid
October 30, 2005
Ginko visits a girl suffering from a mushi affliction that has made her eyes sensitive to light.
03
Tender Horns
November 6, 2005
A village head summons Ginko to cure the villagers from hearing problems caused by mushi, and to cure her grandson who has sprouted four horns from his forehead.
04
The Pillow Pathway
November 13, 2005
05
The Travelling Swamp
November 20, 2005
06
Those Who Inhale the Dew
November 27, 2005
07
Raindrops and Rainbows
December 4, 2005
08
Where Sea Meets Man
December 11, 2005
09
The Heavy Seed
December 18, 2005
10
The White Which Lives Within the Ink Stone
January 8, 2006
11
The Sleeping Mountain
January 8, 2006
12
One-Eyed Fish
January 15, 2006
13
One-Night Bridge
January 22, 2006
14
Inside the Cage
January 29, 2006
15
Pretense of Spring
February 5, 2006
16
Sunrise Serpent
February 12, 2006
17
Pickers of Empty Cocoons
February 19, 2006
18
Clothes that Embrace the Mountain
February 26, 2006
19
String from the Sky
March 5, 2006
20
A Sea of Writings
March 12, 2006
21
Cotton Changling
May 15, 2006
22
Shrine in the Sea
May 22, 2006
23
The Sound of Rust
May 29, 2006
24
The Journey to the Field of Fire
June 5, 2006
25
Eye of Fortune, Eye of Misfortune
June 12, 2006
26
The Sound of Footsteps on the Grass
June 19, 2006